Golf In The Gold Country
Beautiful Greenhorn Creek…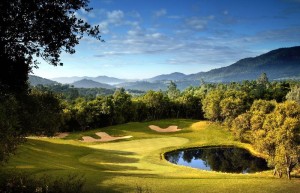 Can you believe that this is the actual view from the 13th Fairway of Greenhorn Creek Golf Course?  Beautiful New Melones Lake is in the background.  The 13th is a challenging Par 3 hole – you can see the trouble on the right and the sand behind the green.  Just one of the many beautiful holes on this championship 18 hole golf course.  You too could live here … and see this view every day!  Find out more: For a tour of this community, call us at (209) 736-5800.
For Greenhorn Creek Cottage rentals, take a look at Murphys Vacation Rentals.
For Condo information at Greenhorn Creek, see the Worldmark page.
Greenhorn Creek Clubhouse can be reached at (209) 729-8111.
Marketing and Sales for Greenhorn Creek is at (209) 770-4020.
Camp Restaurant is at (209) 729-8181.